About Villa Bulan Madu
Welcome to Bulan Madu, one of Bali's most romantic one-bedroom villas, built with privacy, seclusion and comfort in mind. With a name that translates as 'honeymoon', what place could be dreamier than this for couples looking to reconnect?
In choosing the villa's location and design, we pulled out all the stops while assuring you of the first class service and amenities you expect from a five-star property. Our staff is on hand to cook for you when needed and tidy up after you, but they are also masters of discretion thus allowing you to be as free as you like. Do not worry about prying eyes, as your privacy is assured at this hilltop perch, apart from the occasional seabird flying by.
The bedroom opens onto a private pool and gardens. Here, a king-size bed entices with sheer green and gold drapes. Stepping out of the bedroom over stones bridging a fishpond, you enter the open-sided bathroom, vast in its scope and stunning in its simplicity, with a sunken, petal-filled soaking tub, washbasin and rain shower.
A simple living area offers respite from the sun, while a generous lawn and twin sun loungers sit shaded by frangipani trees next to the swimming pool. Take a dip, rest against the infinity edge, and look across the treetops towards the sunset and the Indian Ocean. If you tire of all this, the soft-cushioned balé bengong (daydreaming pavilion) in the garden is the ideal place to contentedly doze the afternoon away.
Bulan Madu can be rented independently or in conjunction with the five-bedroom Villa Indah Manis next door.
Villa Layout
Bulan Madu has its own ornate Balinese entranceway and can also be accessed via a door connecting to its neighbour, Villa Indah Manis. The villa comprises an air-conditioned bedroom and an open-sided fan-cooled lounge. Steps descend into a mature landscaped garden, where a 6m x 4m infinity pool overlooks the forested hillside and out to sea and a balé bengong pavilion awaits.
Floorplan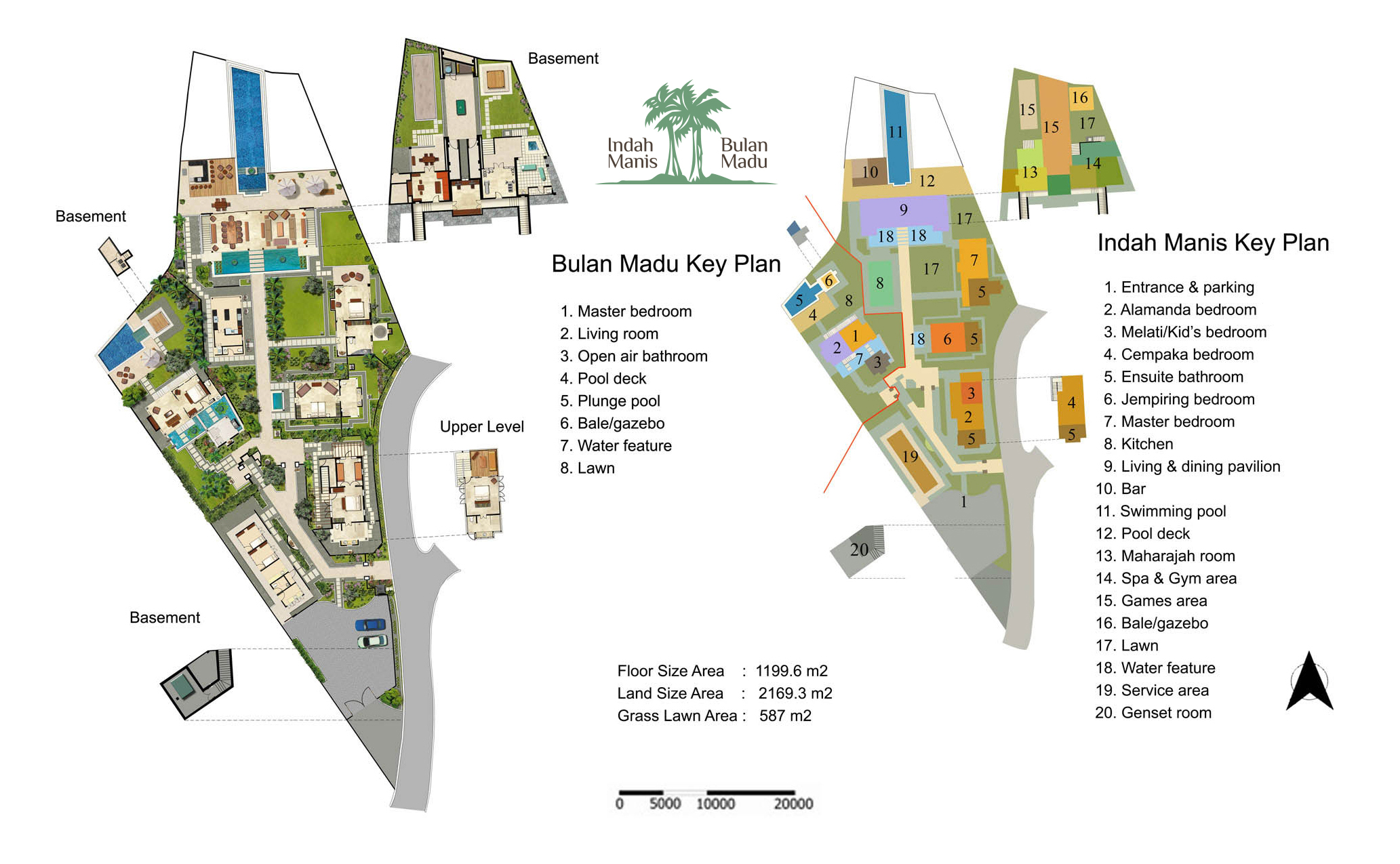 Download in high resolution
Living Areas
The lounge space is open to the back and front, and has magnificent views out over the ocean; it is furnished with three circular armchairs and equipped with a mini bar. The dining table normally resides on the pool terrace but can easily be moved into the living area should the weather be inclement.
Beyond the living pavilion, a 6m x 4m infinity pool presides over the garden with spectacular views of the neighbouring forest and out to sea. Relaxation comes in the form of sunloungers, a balé bengong pavilion and a table for alfresco dining on the pool terrace – all surrounded by manicured lawns and shaded by frangipani flowers and tall trees.
Bedrooms
In Bulan Madu's air-conditioned and fan-cooled bedroom a king-size bed is swathed in golden and green fabric below high, thatched ceilings. The regal semi-open-air (but very private) ensuite bathroom is crafted in cream-coloured stone, featuring a sunken two-person tub and a rain shower, bordered by fishponds, water features and garden views.
Quick Facts
Location
Pecatu, The Bukit Peninsula, Bali, Indonesia.
Capacity
2 adults (one ensuite bedroom with king-size bed).
Living Areas
Open-sided lounge area; poolside dining; garden balé.
Staff
A team of staff (shared with Villa Indah Manis), including villa manager; chef; assistant chef; villa attendants; garden and pool maintenance staff; security.
Dining
A wide variety of Western and Asian dishes. Requests accommodated (including special diets). Grocery cost is charged 20% handling fee which is subject to service and tax at the prevailing rate.
Communication
WiFi broadband internet; local telephone access and in-house phone.
Entertainment
TV with satellite channels.
Transport
One car and driver for 8 hours a day (excluding petrol). Cannot be used during arrival and departure days.
Additional Facilities
Full back-up diesel powered electrical generator. (Barbecue, gym, spa, library of books , pool table, fitness room, dartboard, petanque court – at Indah Manis and subject to availability.)
Property Area
350sqm (land).
Managed & marketed by